Dramatically reduce upfront investment
Dramatically reduce upfront investment when expanding existing DC buildings  or planning a new scalable DC build.   Cannon provide resilient, high performance Data Centers. Our unique solution developed by Cannon Technologies'  enables a true 'Build as you Grow' phased fit out. By using an indoor  or outdoor variant of the Cannon Technologies' Pre-Engineered or Pre-Built Systems, a Granular Modular Data Centre can be built & installed quickly and easily – Reducing time on site, reduced  site project management & labour costs, allowing scaled investment and quicker ROI.
Cannon Globe Trotter
The Cannon "Globe Trotter" comprises the small capacity, transportable Modular Data Centre range which is complimentary to "Cannon Data Campus" multi-megawatt modular facilities.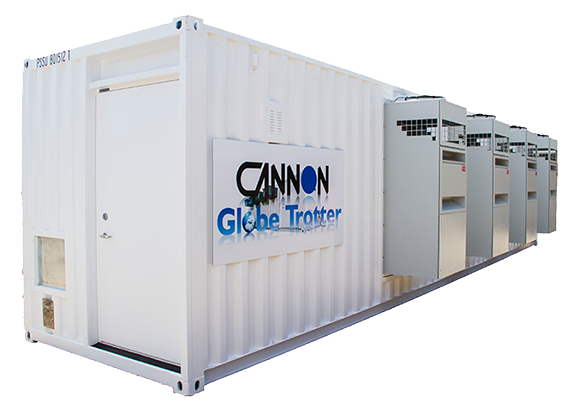 Cannon Data Campus
A multi award winning, rapidly deployable Data Center of modular construction facilitating scalable. graduated, affordable growth. Unparalleled ease of scalability and flexibility combined with extreme efficiency.
Micro Data Centers
Where there is a requirement for standalone computing and communications, or highly resilient, multi mirroring of systems an 'All In One' cabinet provides a life support package for your IT equipment.
Turnkey Data Centre Solutions
Learn more about our fully managed, turnkey data centre solutions.
Talk to an Expert
Can't find what you are looking for?
Require a quote?