Global Leader in
Enclosure Solutions
Cannon Technologies was established in 1978 by teams from the Parent RJF and Scammell groups with the objective of developing activity for the Defence and Commercial sectors.
With presence on all continents, Cannon provides cutting edge solutions for some of the toughest environments.
Cannon Technologies is an international leader in data cabinets and metal enclosure systems. They're used in the Data Networking, Telecommunications, Electronics and IT industries.
Today, Cannon Technologies is the sector world leader and known for high level of investment in product development
Accreditations
High Quality has always been a core value of the Cannon Technologies Group, and continues to be so.

Cyber Essentials Plus
Cannon Technologies Group achieves Cyber Essentials Plus certification.  Independent assessment shows robust cybersecurity principles and capabilities across Cannon Technologies sites and our Accreditation demonstrates high cybersecurity standards,  Certification is essential for bidding for critical national infrastructure projects and Cannon has reached a major cybersecurity milestone as it is awarded Cyber Essentials Plus (CE+) certification, a UK government-backed, industry-supported certification for cybersecurity.
The certification demonstrates that the company's policies and procedures are strong enough to protect against cyber threats. CE+ requires independent verification by an external auditor who conducts a series of technical assessments to ensure the company is protected against various attack scenarios. The evaluation, assessed:
* Boundary firewalls
* Secure asset configuration
* Patch management
* User access controls
* Malware protection
* Mobile assets
Cyber Essentials is a government-backed scheme that helps companies protect themselves against a wide variety of the most common cyber-attacks and was introduced by the UK Government's National Cyber Security Centre (NCSC).

ISO 27001 : 2013 Information Security Management System (ISMS)
Cannon Technologies Group puts a priority on protecting its customers' data. Over the past 18 months, the company has worked aggressively to meet the strictest security requirements in the industry. Those efforts have resulted in the company becoming ISO 27001 : 2013 certified, receiving accreditation for our Information Security Management System (ISMS).
With certification, Cannon has become the only company in the Modular DC and Enclosure industry to guarantee the use of robust data security controls conforming with this internationally recognized standard.
Awards
Large Business Award 2017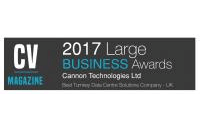 Frost & Sullivan 2013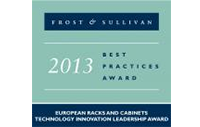 Frost & Sullivan 2015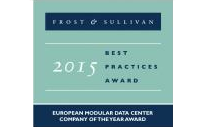 Frost & Sullivan 2016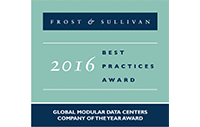 Our Office
New Milton, UK (Head Office)
Company Registration No: 01374913
Address:
13 Queensway, New Milton, Hampshire, BH25 5NU, UK
Contact Information:
Switchboard
+44 (0)1425 638148
Sales and Customer Service
+44 (0)1425 632600 | sales@cannontech.co.uk
Accounts and Human Resources
+44 (0)1425 632619 | accounts@cannontech.co.uk
Purchasing
+44 (0)1425 632616 | purchasing@cannontech.co.uk
General Opening Hours:
Monday to Friday – 9am to 5.30pm
Goods in Opening Hours:
Monday to Thursday – 8.30am to 4.30pm / Friday 8.30am to 3.30pm.