Cannon Combi-Lok
The Cannon COMBi-LOK provides selectable mechanical push-button code entry with unique key over-ride.
The COMBi-LOK enables each client to have controlled access to specific enclosures, maintaining maximum integrity and security.
Entry codes can consist of 1 to 10 digits, inserted in any order.
Changing the entry code can either be completed by inserting the existing code, turning the lock to RESET, cancelling the existing code and re-entering a new code, or by over-riding the lock with a security Master Key** and then inserting the new code.
**Cannon Combi-Lok master key is not included with the lock, so  if a master key is required please order the key separately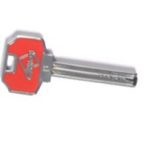 CANNON COMBI-LOK MASTER KEY**
The COMBi-LOK Master Key facility allows the re-setting of forgotten codes as well as emergency access for Data Centre management
Cannon Combi-Lok
For further details please contact the Cannon Sales Team.
Order Codes
| | |
| --- | --- |
| DESCRIPTION | ORDER CODE |
| Combi-Lok | COMBI-LOK-1B |
| Cannon Combi-Lok Master Key** | COMBI-KEY-B |
| Combi-Lok (each) for a Smart Vertically Split Door*** | LC265-2-Width of Cabinet & U Height i.e. LC265-2-8042 for a 800mm wide & 42U Height Cabinet |
Download Literature
LOCKING OPTIONS