When designing a modular Data Centre, Cannon Technologies are well-aware of the many considerations present to maintain the optimum environment for technology to function at its best. As industry leaders Cannon Tech have supplied and installed scalable modular data systems across all continents. These projects test our solutions to the max, be they in the deserts and jungles of Africa or the sub-zero tundra of Antarctica. Our security features are second to none and our award-winning design features ensure our customers have total peace of mind knowing their hardware is safe, secure and operating at maximum efficiency.
Maximum efficiency is the aim and there's zero compromise when it comes to customer expectation.  At Cannon Tech, reputation is built on our promise of problem free delivery, installation and integration. Part of this promise is not only an ability to address and solve problems as they arise, but to examine current products and improve.
Ambient temperature control is vital for any data centre and when we consider the variables of external temperature and how this affects racks temperature which in turn affects generated conditioning, it is easy to see how temperature could, in theory create a data issue. The issue? How to guarantee temperature maintenance within modular sections, some of which are separated by only a few millimetres.  The only point of weakness in this issue is the floor grommet and now Cannon Tech's award-winning R&D team have it covered.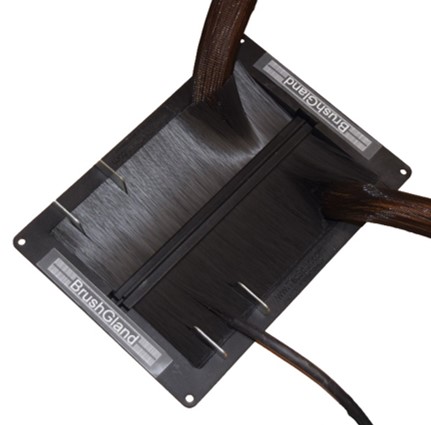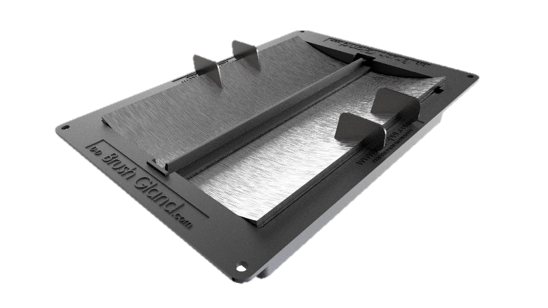 The issues of temperature and cable management have resulted in the unique design of the aptly named Cannon Brushgland.
In the office, the traditional floor grommet is valued for its cosmetic appearance rather than its functionality. However, in the context of a modular data system the design can have a measurable effect on data transfer. The issues of temperature and cable management have resulted in the unique design of the aptly named Cannon Brushgland.
This latest solution to the age-old problem of cable management has an almost organic design using the best possible cable control which offers an impressive and comprehensive air blocking system. Built to the highest spec each unit improves on the inadequacies of old-fashioned floor grommets, giving end users the real peace of mind that full and complete temperature control can offer.
Briefly, this cable and air management system cuts temperature "pollution" by providing a strong yet totally flexible pre-stressed "brush insulation" system which is robust enough to withstand the air pressure created by the temperature extremes necessary for optimum functionality. In short, the Brushgland maintains temperatures where they should be in every section of your data centre thanks to a strong and reliable air seal which is fully accessible and controllable. The brush design also creates a non-invasive cable control system which protects, separates and isolates power and data cables from possible damage. Cannon Technologies has even designed the Brushgland so that it can be instantly and easily retro- fitted on all existing installations, offering users yet another layer of security, safety and most importantly peace of mind.
Cannon Tech are always available to help and advise so please feel free to contact the team at any time on 01425 632600 or email sales@cannontech.co.uk
Background Information
Established over 40 years ago, Cannon Technologies specialise in the design, manufacture and delivery of Micro to Multi Megawatt Data Centres for Core to Edge facilities around the world. Cannon is viewed by its peers as a global leader and is a multiple award winner with successful projects, delivered to; Financial, Data Centre, Transportation, Industrial, Government and Military sectors.
Today, Cannon Technologies is a world leader and known for its' high level of investment in R&D product development.
---