ULTRA FAST 100Mb/s to 10Gb/s internet service connectivity via a fibre optic link directly to home of business premise.
Cannon's FTTP/FTTH  S-TYPE Outdoor Cabinet range provides a single/double/triple 19″ or ETSI rack mounting with the option for single or dual end chambers.  Power and energy efficient cooling/heating (Thermal Management) is integrated into a dual wall insulated enclosure.  Access is via front and rear doors or removable panel(s) with access to the low noise, energy efficient, active control fan cooling system via a multi-hinged roof with robust roof stay (protects user from the risk of failure during strong winds/air movement due to traffic etc) .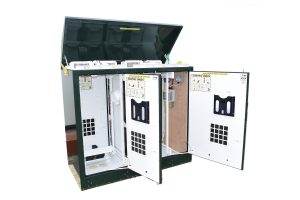 FTTP/H provides city/town and rural communities with the ability to have ultra fast Internet.
Cannon design, manufacture, assembly & integration facilities provide clients with modern, flexible and agile support from Concept through to Installation/Service/Maintenance contracts
Many ALTNET teams decide on CANNON for their Intergrated Outdoor Cabinet and partner with us due to an extensive product range, continual technical support, and whole life project support.  Our focus is always to be at the technical forefront of our sectors including transportation, communications, security & defience, utilies sectors.
Client understand the commercial value of delivering extremely fast connectivity and Cannon Technologies can provide reliable, secure, climate controlled outdoor cabinets to house sensitive OLT communications, switching and UPS equipment.
Please contact our sales department for further details of our Integrated Outdoor cabinet range or download the brochure from our product section.
---