TRUESPEED provides ULTRA FAST 100Mb/s to 10Gb/s internet service connectivity via a fibre optic link directly to home of business premise.
Cannon's  S-TYPE Outdoor Cabinet S143800E-MOD4 provides a double 19″ chamber with power and cooling integrated into a dual wall insulated enclosure.  Access is via double front and rear doors with hinged roof providing access to the low noise, energy efficient, active control fan cooling system.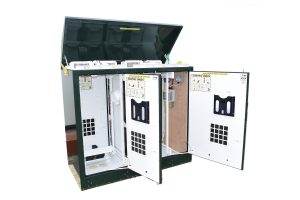 TRUESPEED provide rural communities with the ability to have ultra fast Internet.
All of TRUESPEED services are considerably faster than BT's copper based broadband products.
TRUESPEED are expanding out from Bath into the Chew Valley.
TRUESPEED is a modern, flexible and agile company
TRUESPEED's technical and program leadership team decided on CANNON as their Intergrated Outdoor Cabinet partner due to their outstanding product range, passion and continual technical support, explained TRUESPEED's role out project manager.  Both CANNON and TRUESPEED are at the technical forefront of their fields within the data communications sector.
TrueSpeed understands the commercial value of delivering extremely fast connectivity and looked to Cannon Technologies to provide reliable, secure, climate controlled outdoor cabinets to house their sensitive communications, switching and UPS equipment.
Please contact our sales department for further details of our Integrated Outdoor cabinet range or download the brochure from our product section.
---