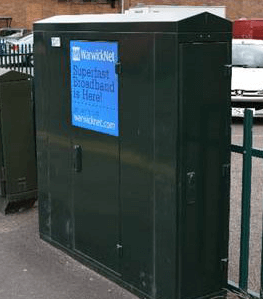 Summary
Glide Business uses state-of-the-art cabinet solutions from Cannon Technologies to keep vital equipment protected and secure.
As one of the UK's fastest growing providers of high-speed Internet to business parks, industrial estates, and metropolitan and rural areas, Glide Business uses state-of-the-art cabinet solutions from Cannon Technologies to keep vital equipment protected and secure.
Glide started life as separate businesses delivering broadband, utilities and communications services to different markets across the UK. For decades, we've been known for delivering exceptional connectivity and original solutions to the best universities and biggest businesses in the country.
Cabinet meeting
Rapidly growing its geographical spread, Glide Business implements a mixture of FTTX technologies including fibre to the cabinet (FTTC) and fibre to the premises (FTTP), as well as sub loop unbundling (SLU). It is committed to using state-of-the-art equipment and, recognising the role that its outdoor street side cabinets play in maintaining excellent levels of service, has worked closely with Cannon Technologies. Having already used a product based on the highly successful Street Wise Active Cabinet, Glide Business felt that a smaller, more compact solution would be more suitable for some of its forthcoming planned projects.
Ben King, Glide Business founder, comments, 'As always, when it comes to outdoor cabinets our chief concerns are high levels of security, robustness, resilience and functionality. However, we thought that it might be possible to encapsulate these qualities within a smaller unit, so asked Cannon Technologies to give us the benefit of their expertise in design to manufacture and suggest alternatives.'
As the outdoor cabinets are sited on pavements and roadsides, the smaller they are, the less likely it is that they will obstruct walkways. Glenn Conlon, sales director at Cannon Technologies, takes up the story and says, 'We needed to configure a cabinet that could meet Glide Business's brief and provide easy access to the equipment housed inside. It soon became clear that we could produce a solution based on our C-Type Cabinet, and so the C-Type Minicab was born.'
Detail
Features and benefits
Installed using an 'in-ground root or plinth' mounting system for location into or onto a concrete pad, the up-to IP65 rated C-Type Minicab comes in at a width of just 600mm. It offers easy access to the consumer unit, Krone distribution frame or fibre management cassettes/patching, DSLAM equipment, UPS and main power & communications cable entry ducts. As well as housing the mains electricity input fuse and meter, a consumer unit also connects power from the regional electricity authority to connect to the thermostatically controlled fans and equipment.  The thermal system can also be upgraded with Cannon Guard which monitors fan fail, fan speed, door entry, flood, smoke and over/under temperature alarms via SNMP traps over IP.
One less obvious benefit of its smaller size is its reduced weight – instead of using a specialist crane, two engineers can lift and shift it into place.
The main body of the cabinet and the doors are manufactured from 2mm thick Z600 pre-galvanised steel sheet. Conlon states, 'Z600 denotes a total of 600gm/m² of zinc applied in an oxygen free atmosphere to the steel substrate. In addition, the units have been painted to Glide Business's specific colour requirements with a 90μ powder coating, which provides a tough outer layer.'
Security guard
The C-Type Minicab offers the highest levels of security and thwarting the efforts of those who want to access the active equipment inside requires special measures. Each door that allows access to the thermal chamber is locked by a single Cannon Technologies stainless steel swing handle lock, which can be locally operated. All locks are further deadlocked using an approved double D profile lock body, which can then be keyed against a specific geographical area.  An additional advantage of the Cannon lock is the capability for electronic keyless entry, a great feature for companies wanting to restrict the issue of keys which could be lost or stolen.
The locking system has been approved to The Loss Prevention Certification Board's (LPCB) LPS1175 Security Rating 3 (SR3). Approval to this standard ensures that the security products used in the cabinets provide the reliable delay and means of detection required to protect against intrusion. Products certified to LPS1175 SR3 standards have resisted a series of professional attacks, each lasting up to 20 minutes, using a wide variety of tools.
Fan club
Limiting the size of the cabinets brought its own challenges from a thermal management perspective. Ensuring that the environmental conditions in the cabinet are kept within defined parameters is vital in ensuring the correct operation of the equipment housed inside.
'Each cabinet can be configured with a choice of cooling technology,' says Conlon 'The basic option uses an electro/mechanical thermostat, which simply turns a one-speed fan on and off when certain defined temperatures are reached, and an additional fan provides redundancy when necessary. This can be used in conjunction with a hardened digital subscriber line access multiplexer (DSLAM), which is designed to withstand higher temperatures. However, we have also designed a more intelligent system that limits the energy used and noise created by running the fans at lower speeds. It continually monitors the internal conditions to ensure only the necessary amount of air flow is created to cool the equipment and this also helps reduce unnecessary wear and tear on the components.'
This thermal management system is controlled and operated via a series of strategically located sensors, which monitor air temperature and condensation levels. It is also possible to remotely monitor and control the cabinet via the Cannon Guard management system, a fully integrated hardware and software management package that is designed to support local or remote installations.
Cannon Internal Climate Test Chamber with solar Heat Gain
Project Description
Need for speed
It's not just Glide Business's business park-based customers that are set to benefit from the introduction of the C-Type Minicab. Cannon Technologies believes that it is especially useful for the rollout of superfast broadband to rural areas.
Conlon explains, 'Despite the government's stated objective to have superfast broadband in 98 per cent of the UK by 2020, the fact is that around 1.88 million premises lack superfast access in the UK. Many communities are choosing to join together and put in their own money to acquire a service that meets their needs. For these smaller installations, the C-Type Minicab is perfect.'
It can also be manufactured according to a customer's specific requirements, including two and three bay options, and with bespoke mounting options to accommodate the use of 19-inch, ENSI or DIN equipment. It can also be fitted with various copper termination modules and be pre-configured with a range of internal fixings and layouts.
Out and about
450+ C-Type Minicabs have already been delivered to Glide Business, with further units in production, and Ben King concludes, 'Once again Cannon Technologies has come up with the goods. We now have a flexible and cost-effective containment solution for our smaller customers, and we are delighted that this has been achieved without any compromise in terms of the features and technology we have grown accustomed to.'
Cannon also provide up-to Level 4 integration and installation services
---